---
---
Need a good Friend??


Some One who cares to listen but also gives good advice? Try Jesus now.

(Deu 31:6 KJV) Be strong and of a good courage, fear not, nor be afraid of them: for the LORD thy God, he it is that doth go with thee; he will not fail thee, nor forsake thee.

(Josh 1:5 KJV) There shall not any man be able to stand before thee all the days of thy life: as I was with Moses, so I will be with thee: I will not fail thee, nor forsake thee.

(1 Ki 8:57 KJV) The LORD our God be with us, as he was with our fathers: let him not leave us, nor forsake us:

(Heb 13:5 KJV) Let your conversation be without covetousness; and be content with such things as ye have: for he hath said, I will never leave thee, nor forsake thee.
>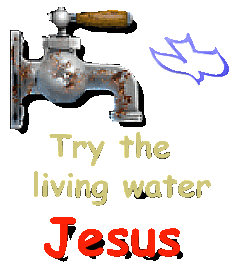 On these sites listed below you will find great Bible based devotionals, and some great Bible versed wallpapers as well. Do also Book mark this index and send it to others as well.
Jesus loves you, he died for you

I am His all the way

Jesus the sole light too

---
---